Bs10 Bertie
The Bertie bench is a great choice for tougher environments and is generously proportioned to accommodate three adults or four if you go for the 4-bay longer version. Extremely elegant yet heavily engineered, Bertie is strong, built to last and should give years and years of good service. Its fully welded construction from thick gauge stainless steel means nothing is going to come loose or fall off or bend. Bertie has proved to be our most popular seat for the public domain and can be supplied with the following extras.
Extras
Armrests - not a problem. Stylish & curvaceous to match the seat and welded into frame.
Integrated skateboard deterrents - built in to the panel dividers to look good (you'll hardly notice them).
Ground coverplates - a neat solution for unit paving. These go around the bottom of the legs to conceal grouting and badly cut paviors.
Fixing
Standard fixing is to a below ground concrete foundation although surface fixings can be supplied if you're surface is suitable (like concrete or timber decking with backplate). We recommend using tamper proof security bolts anyway. Bertie can also be freestanding provided your environment is low risk from theft. Also bear in mind that you're surface does need to be reasonably level so the bench doesn't appear to tilt.
Timber
We use timber on Bertie as it is more comfortable to sit on, temperature wise, than metal, stone or concrete - especially in winter. We also use high quality FSC Iroko firstly because it is sustainable and secondly as it is one of the most durable hardwoods available in the UK. There are other cheaper hardwoods out there that do not perform anyway near when used outdoors. Seat panels are replaceable and can be ordered direct but need to be fitted by someone suitably qualified.
As all timber tends to do, Iroko will weather and lose its golden surface colour so if this isn't the look you are after there are a few alternatives that help to sustain colour. The first is regular oiling (with teak oil); second is staining (with a quality stain) and lastly there is occasional pressure washing/sanding to restore the colour. They all work but have some maintenance liabilities. Berties are supplied with (teak) oiled Iroko as standard.
Finish options
Power coating or for really tough situations 316 marine grade stainless steel with electropolished finish.
Dimensions and weights
3-Bay L1988 x W450 x H450mm above ground and 125kg approx.
4-Bay L2648xW450xH450mm above ground and 155kg approx.
Both versions have legs that extend 180mm blow finished ground level.
Download Bertie data sheet
All product design and images are Copyright Street Furniture Works Ltd. There may be changes of detail to the specification of the products from that illustrated.
Bertie 4 Bay surface mounted
IMPORTANT
Please download data sheet for full installation and maintenance liability guidelines
FOUNDATION AND FIXINGS MUST BE TO OWN ENGINEERS FINAL SPECIFICATION AND APPROVAL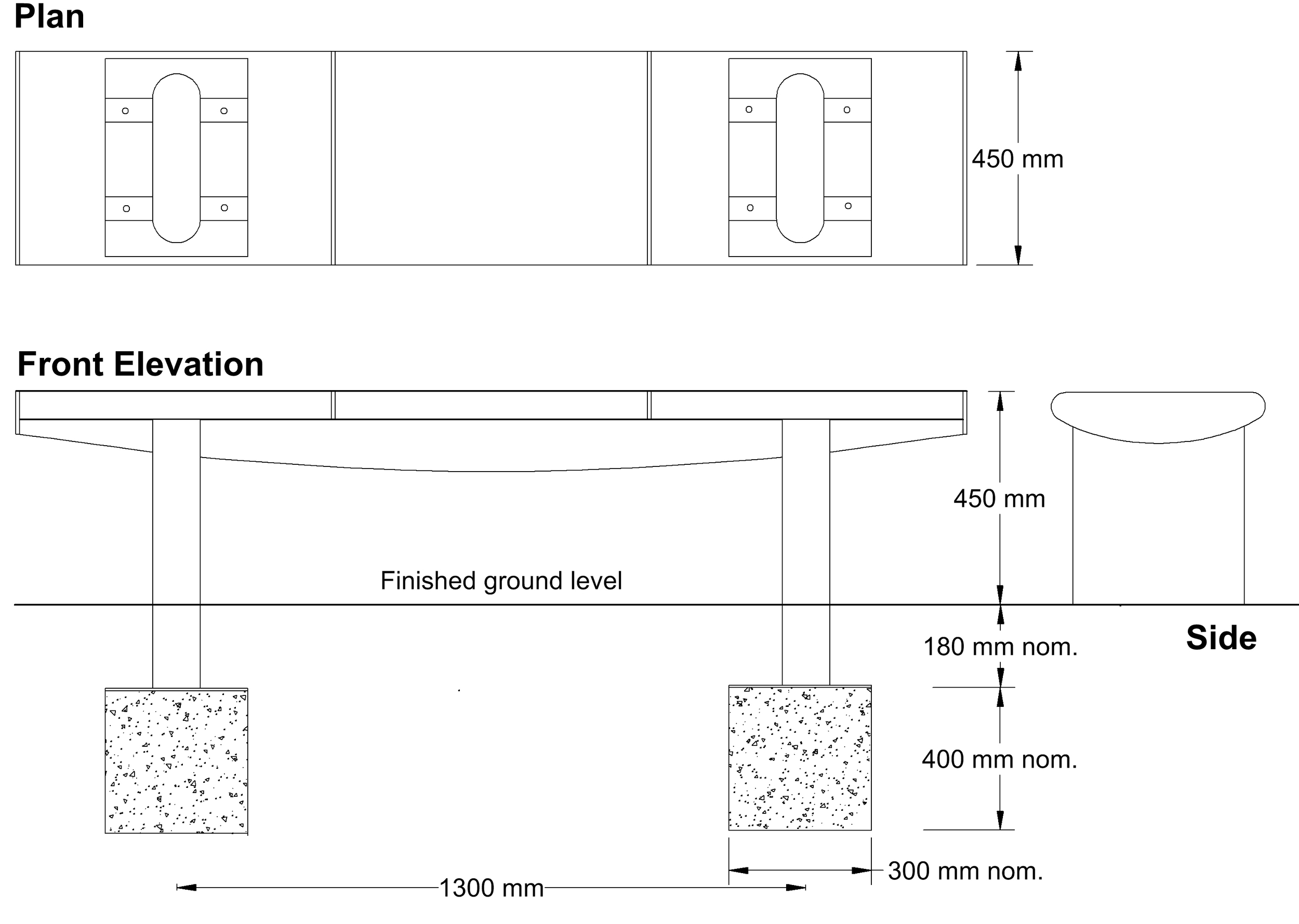 Bertie 3 Bay below ground baseplate fixing
IMPORTANT
Please download data sheet for full installation, operation and maintenance liability guidelines
FOUNDATION AND FIXINGS MUST BE TO OWN ENGINEERS FINAL SPECIFICATION AND APPROVAL